Mark "Spenser" Riemenschneider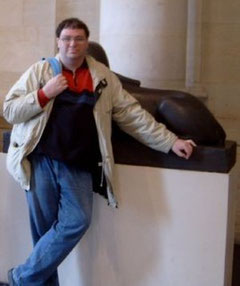 Das bin Ich / That's me:
Name: Mark Riemenschneider
Geburtstag / Date of Birth: 13.3.1971
Geburtsort / Birth Place: Verden / Niedersachsen (Deutschland / Germany)
Wohnort: / place of residence: Verden / Niedersachsen (Deutschland / Germany)
Lieblingsbeschäftigung / Hobbys:
TV-Serien, Filme, Lesen, Musik hören, Autogramme sammeln, Fußball
TV-series, Movies, Read Books, Hearing Music, Collected Autographs, Soccer.
Lieblings TV-Serien / Favorite TV Shows:
Spenser, Zurück in die Vergangenheit, Mike Hammer, Nash Bridges, Crossroads, Vega$, Mit Schirm Charme und Melone, Murphys Gesetz (1988), Lazarus Man, Matt Houston, Paradise: Ein Mann- ein Colt-vier Kinder, Human Target, Detektiv Rockford, Longmire, Fringe, Person of Interest, Arctic Air, EUReKA-Die geheime Stadt, Frasier, Becker, Chaos City, Castle, Auf Achse, Harry O., Gavilan, Arrow, The Flash, Legends of Tomorrow, Scorpion, u.v.a.m.
Spenser: for Hire, Quantum Leap, Mike Hammer, Nash Bridges, Crossroads, Vega$, The Avengers, Murphys Law (1988), The Lazarus Man, Matt Houston, Paradise / Guns of Paradise, Human Target, The Rockford Files, Longmire, Fringe, Person of Interest, Arctic Air, EUReKA, Frasier, Becker, Spin City, Castle, Auf Achse, Harry O., Gavilan, Arrow, The Flash, Legends of Tomorrow, Scorpion, and many more....
Lieblingsautoren / Favorite Authors:
Robert B. Parker, Tess Gerritsen, David Baldacci, James Patterson, Dennis Lehane, Simon Beckett, Karin Slaughter, Raymond Chandler, Robert Crais, Richard Castle,

Lieblingsmusik / Favorite Music-Stars:
Phil Collins, Kenny Rogers, Garth Brooks, Kylie Minogue, Jerry Reed, Johnny Lee, Bryan Adams, Roxette, Queen, Cascada, Brad Paisley, Billy Ray Cyrus, Kim Wilde
Lieblingsgetränk / Favorite Drinks:
Zuckerfreie Orangen und Zitronenlimonade, Kakao, Pina Cola, Grüne Wiese, Coconut Kiss, Chocochino, Weißwein (Rheinhessen, halbtrocken)
Sugarfree lemonade, cocoa, cola Pina, Green Meadow, Coconut Kiss

Lieblingsessen / Favorite Food:
Nudeln, Schnitzel, Schokolade, Kartoffelchips, Burger
Noodles, chips, chocolate, potato chips, burgers

Lieblingsschauspieler / Favorite Actors:
Robert Urich, Scott Bakula, James Stewart, Cary Grant, Humphrey Bogart, John Wayne, Bruce Willis, Jason Statham, Jessica Alba, Jeremy Renner, Mark Valley, Avery Brooks, Alyssa Milano, Rachel Bilson, Summer Glau, Nicole Eggert, Aiyha Hart, Katja Woywood, James Garner, Roger Moore, Burt Reynolds, Clint Eastwood, Steve McQueen,  and much more.
Lieblingsfilme/ Favorite Movies:
Eine Leiche zum Dessert, Is' was Doc?, Ferris macht blau, Frequency, Unternehmen Petticoat, Ein Ticket für zwei, Stirb langsam - Reihe, Lethal Weapon-Reihe, Beverly Hills Cop-Reihe, Ein ausgekochtes Schlitzohr, Convoy, Wilde Flucht nach Kalifornien, Frantic, Indiana Jones-Filme, Sleepy Hollow, Die Reise ins Ich, Dirty Harry- Reihe, Krieg der Eispiraten, Todesträume, Die Reise ins Ungewisse, Die Spur des Falken, Der Tank, Duell in Diablo, El Dorado, Der unsichtbare Dritte, Über den Dächern von Nizza, Der dünne Mann, Urlaubsreif, Die Weihnachtshütte,  u.v.a.m.
Murder by Death, What's up Doc, Ferris Buellers Day Off, Frequency, Operation Petticoat, Planes Trains & Automobiles, Die Hard-Movies, Lethal Weapon Movies, Beverly Hills Cop -Movies, Smokey and the Bandit, Convoy, Coast to Coast, Frantic, Indiana Jones-Movies, Sleepy Hollow, Innerspace, Dirty Harry-Movies, The Ice-Pirates, Murder by Night, No Highway in the Sky, The Maltese Falcon, Tank, Duel at Diablo, El Dorado, North by Northwest, To catch a Thief, The thin Man, The Christmas Lodge, and many much more
Lieblings Fußballvereine / Favorite MSoccer Teams
Hannover 96, TSV 1860 München, Darmstadt 98, FC Verden 04,

Meine Homepages / My homepages:
http://mark-riemenschneider.jimdo.com/
http://robert-urich.jimdo.com/
http://mikehammer-philipmarlowe.jimdo.com/
http://katjawoywood.jimdo.com/
Wie Ich Spenser Fan wurde
As I was Spenser fan
Mit Spenser kam ich zuerst Ende 1988 in Berührung, als die TV-Serie in der ersten TV Wiederholung bei uns im deutschen Fernsehen gelauzfen ist. Damals lief die Serie auf dem Sender SAT.1, jeden Mittwoch um 20.15 Uhr. Ich weiß noch, dass ich mir dem Pilotfilm und die ersten 4 Folgen auf meinen ersten Videorecorder aufgenommen, aber aus Zeitgründen nicht angeschaut. Erst Wochen später schaute ich mir die Folgen an und war sofort begeistert! Leider hatte ich die nachfolgenden Episoden aus Platzgründen nicht aufgenommen. Konnte ich damals ahnen, dass sich Spenser zu meiner absoluten Lieblingsserie entwickeln würde? Nach dem Anschauen setzte ich das Aufnehmen natürlich weiter fort  und durch die Wiederholung konnte ich nach und nach die Serie komplettieren. Meine letzten TV Folgen konnte ich erst 1995 aufnehmen, da die Episoden, die mir bis dahin noch fehlten, immer nie wiederholt wurden. Bedauerlicherweise wurden ja auch 7 Episoden in Deutschland bis heute nie ausgestrahlt, was leider damals keine Seltenheit war, da sehr viele TV-Serien aus den 60ger, 70ger und 80ger Jahren damals in Deutschland nie komplett ausgestrahlt wurden und oftmals sogar um bis zu 4 Minuten pro Folge gekürzt wurden, damit die Serienfolge besser ins Sendefenster gepasst hatte. Dieses war bei "Spenser" zum Glück nicht der Fall! :)
1991 bekam ich durch Zufall mit (Ja, das Internet gabs damals eben noch nicht!) dass es auch Romane zu "Spenser" gab und ich fing an, mir diese zu kaufen. Zum Glück brachte der Ullstein Verlag damals recht viele heraus, leider aber nicht alle, da die Verkaufszahlen nicht so gut waren, wie man sich erhoffte. Zudem erscheinen dort einige Romae auch nur in gekürzter Fassung.
Die Romane gefielen mir sofort und obwohl ich damals alles andere als ein eifriger Leser war, änderte sich dieses mit "Spenser" sofort! Ich begann in den 90ger Jahren sogar selbst Geschichten zu "Spenser" zu schreiben, sogenannte Fanfictiosn, die ich zwischen  1991-1997 schrieb und danach aus Zeitgründen "einstellen" mußte.
Obwohl ich ein Riesen-Fan von vielen TV-Serie bin - an "Spenser" reichte nie eine andere Serie heran. "Spenser" ist einfach meine absolute Nummer 1 bei TV-Serien und Romanen und wird dieses sicher auch immer bleiben, da "Spenser" eben seit 1988 meine absolute Nummer 1 ist.
With Spenser I first came into contact in late 1988, as the TV series is gelauzfen in the first television replay with us on German television. At that time, the series ran on the SAT.1, every Wednesday at 20.15 clock. I remember that I added myself to the pilot and the first 4 episodes on my first VCR, but not for lack of time viewed. Only weeks later, I looked at the consequences and was immediately impressed! Unfortunately I had not taken the subsequent episodes of space. I could anticipate then that Spenser would develop my all time favorite series? After watching I sat picking naturally continue and by the repetition I could gradually complete the series. My last TV episodes I could take until 1995, because the episodes that I missed until then, were never ever repeated. Unfortunately, too 7 episodes were broadcast in Germany until today never, which unfortunately was not uncommon at that time, as many TV series were from the 60's, 70s and 80s then aired in Germany never complete and often even per order up to 4 minutes episode were cut, so that the series episode had better fit into the send window. This was in "Spenser" fortunately not the case! :)

In 1991, I got by chance with (Yes, the Internet gabs then just not yet!) That there were novels to "Spenser" and I started to buy me this. Luckily the Ullstein then brought out quite a lot, but unfortunately not all, because the sales were not as good as you hoped. In addition, there appear some Romae even in abbreviated form.

The novels I liked immediately, and even though I was far from being an avid reader of the time, this changed with "Spenser" immediately! I started in the 90s, even even write stories about "Spenser", called Fanfictiosn I wrote between 1991-1997 and then "set" due to time constraints had.

Although I am a huge fan of many TV series - on "Spenser" never enough zoom to another series. "Spenser: For Hire" is just my absolute number 1 in TV series and novels, and this is certainly always remain as "Spenser: For Hire" is flat since 1988, my absolute number 1.
Simon "Seamus" Farrelly
Über mich / About Me
Name: Simon Farrelly
Geburtstag / Date of Birth:  04.03.1986
Wohnort / Location: Stuttgart, Baden-Württemberg, Deutschland / Germany
Beruf / Occupation: exam. Altenpfleger / Geriatric nurse (male)
Hobbys / Hobbies
Lucha Libre, Bassgitarre, Romane / Sachbücher, Billard, Boxen, Darts.
Lucha Libre, Bass guitar, Novels / Non-fiction books, Billard, Boxing, Darts.
Lieblings-TV Serien / Favourite TV Shows
Seinfeld, Friday Night Lights, Curb Your Enthusiasm, Spenser, Father Ted, Inspector Morse, Mit Schirm Charme und Melone, The Vicar Of Dibley, Sons of Anarchy, Næturvaktin, Der letzte Bulle, New Tricks, Breaking Bad, The Almighty Johnsons.
Seinfeld, Friday Night Lights, Curb Your Enthusiasm, Spenser: For Hire, Father Ted, Inspector Morse, The Avengers, The Vicar Of Dibley, Sons Of Anarchy, Næturvaktin - The Night Shift, Der letzte Bulle, New Tricks, Breaking Bad, The Almighty Johnsons.
Lieblings-Romanautoren / Favourite Novelists
Jeremiah Healy!
Haruki Murakami, Robert B. Parker, Banana Yoshimoto, James Lee Burke, Colin Dexter, Carlos Fuentes, Ace Atkins, Martin Walser
Lieblingsmusik/Bands / Favourite Music / Bands
Alcest, Saint Vitus, Explosions In The Sky, Rainbow, Candlemass, Slowdive,  Boston, Black Sabbath, Nehemah, God Is an Astronaut, Blood Farmers, Reverend Bizarre, Amon Amarth, Helloween, Iron Maiden, Les Discrets, Arctic Plateau, Megadeth, Toto, James Taylor, Baroness, Pity Sex, Drudkh, Solstafir, Bubbi Morthens, Rush, In The Woods, Eisregen.
Lieblingsgetränk / Favourite Drink
Bier / Beer
Lieblingsessen / Favourite Dishes
Käsespätzle, Zwiebel-Rostbraten, Gallo Pinto, Maultaschen, Tortillas, Poutine, Wildspeisen
Lieblingsschauspieler / Favourite Actors
Robert Urich, Avery Brooks, Isabelle Huppert, Takeshi Kitano, John Thaw, Michael Richards, Ted Danson, Victoria Abril, Patrick Macnee, Jean-Paul Belmondo, Catherine Deneuve, Walter Mathau.
Lieblingsfilme / Favourite Films
Kikujiro's Sommer, Die glorreichen Sieben, Manche mögens heiß, Hana Bi - Die Feuerblume, Ziemlich beste Freunde, Rocky-Reihe (1-3), James Bond Reihe
Kikujiro, The Magnificent Seven, Some Like It Hot, Hana Bi, Intouchables, Rocky series, James Bond series

Lieblingsmannschaften / Favourite Teams
FSV Frankfurt, VfB Stuttgart, RC Strasbourg, Celtic Clasgow, FC Everton.